What to Look For in
a Coffee Bag?
Coffee roasters will tell you that maintaining the freshness of their coffee beans is essential. As a specialty coffee manufacturer, you want coffee packaging that keeps your beans smelling and tasting as fresh as the day you first roasted them. Fancy-looking packaging will only get you so far. High-quality coffee packaging has two jobs. One is to make sure your specialty coffee beans retain all the freshness and flavor you work so hard to create during the roasting process. The other is to make your brand recognizable, so customers keep coming back for more. You can even make the argument that your packaging is almost as important as roasting the beans.

It's important to know what to consider in a coffee bag, and you want to work with a company that asks the right questions. How do you fill your bags? What is the scale of your business? What type of audience do you serve? Do you sell to companies or end-users? Here are some tips to consider when you trying to find the best kind of coffee bags for your business.
---
The Perfect Pouch for Coffee Packaging
A good pouch or bag for your roasted coffee beans has several benefits over the traditional coffee can. Bags and pouches are lightweight and pack well into shipping containers and other equipment, yet they also stand upright on a retail shelf. CarePac features several different style bags to choose from.
This machine made side gusset pouch is a stylish design that holds its shape well while supporting more weight than most types of coffee bags. Works well with supporting features such as an EZ-Pull closure, making the bag easy to open and close for future use. A convenience factor that customers love!
Another gusseted pouch, but this time all four corners include a nice and tight seal. This offers a clean, square look that is very popular in coffee packaging as it gives you extra room for design and branding. Pair a quad seal bag with a recloseable zipper, and you have a real winner.
8-Seal Square Bottom Coffee Bag
Another gusseted pouch, but this time all four corners are sealed nice and tight. This offers a clean, square look that is very popular in coffee packaging as it gives you extra room for design and branding. If you're a specialty coffee brand, this is a style you'll want to look into. Pair a quad seal bag with a recloseable zipper, and you have a real winner.
Stand Up Pouches Highly economical, stand-up pouches are considered more of a "new school" design and offer several benefits over other types of bags. It stands up nicely on a shelf and displays clean lines while presenting a familiar shape to consumers. It also allows for the use of an insert zipper, which is excellent for the customer to ensure freshness and means it's easier for the manufacturer to fill.
---
Flexible Barrier Packaging Keeps Coffee Fresh, Like It Should Be
Whether you specialize in ground coffee or freshly roasted beans, your customer wants it fresh and flavorful, regardless of the roasting notes. Specialty coffee beans are highly susceptible to oxygen, UV, and other environmental factors making airtight packaging essential to the integrity of your beans. Flexible packaging also requires a barrier. You can usually choose between a genuine aluminum barrier or go with a more environmentally friendly high-barrier polyester.
Aluminum has been used for a long time to keep foods fresh. Our CareFoil line of flexible barrier packaging materials is top-notch. We offer several variations, but all of them provide the ultimate barrier protection of aluminum with the added strength of Mylar. It's an excellent barrier to both oxygen and moisture. Suppose your audience prefers a more natural look. In that case, our CareKraft barrier materials provide superior barrier protection in a kraft paper exterior look and feel. CareKraft nags are made with encapsulated foil, or high-strength nylon reinforced laminated coating.

You also want to make sure your product is protected from UV light. UV light can sap the potency right out of your beans, leaving them pale and not tasting that great. Choose an opaque bag that effectively blocks your product from all UV rays. As you can see, there are many choices here and a lot to think about. But don't worry, you don't have to know what's best for your particular product. Our packaging specialists will help you choose the perfect films for what you need.
---
Include a Degassing Valve
After coffee beans are roasted, they continue to emit gases for quite a while. Suppose you package your beans before all the gasses have dissipated. In that case, the gas will be trapped inside the package, causing it to look misshapen and bloated. Not only is this unsightly, but it can also cause the bag to burst open during transport. Adding a degassing valve to your coffee bag takes care of this problem.
A degassing valve is a one-way valve that allows gas to escape from the bag while not allowing any gas in. It maximizes the freshness of your coffee by allowing unwanted gas to escape while keeping oxygen from entering into the bag's environment. Oxygen degrades coffee beans, turning them stale and significantly affecting the flavor. Adding a degassing valve not only locks in the taste of your beans, it greatly adds to the shelf-life of your product.

Also, consider that using a degassing valve can increase your productivity and efficiency. Instead of waiting for your freshly roasted beans to finish emitting gases, you can now package them right away. Any natural gases produced during roasting will escape via the one-way valve.
---
Closures & Seals
Anyone serious about keeping their coffee tasting great knows that you don't keep your beans in the refrigerator or freezer. What you want is to provide packaging that allows your customers to reuse the original pouch the coffee came in. We already know that coffee should be kept in an airtight bag. But as soon as someone opens the package, it's no longer airtight! That's where a reclosable zipper or a tin-tie comes in. You want your customer to take out the amount of coffee they need and then close the bag up tight to keep it fresh.

Plus, if you have invested in artwork and branding on your packaging, the last thing you want is for your customer to remove the beans and put them in a different container. You want your customer to think of your company each time they make a cup of joe. Adding a reclosable feature is almost a necessity to work toward increased brand loyalty.
---
Design a Custom Look for your Coffee Bag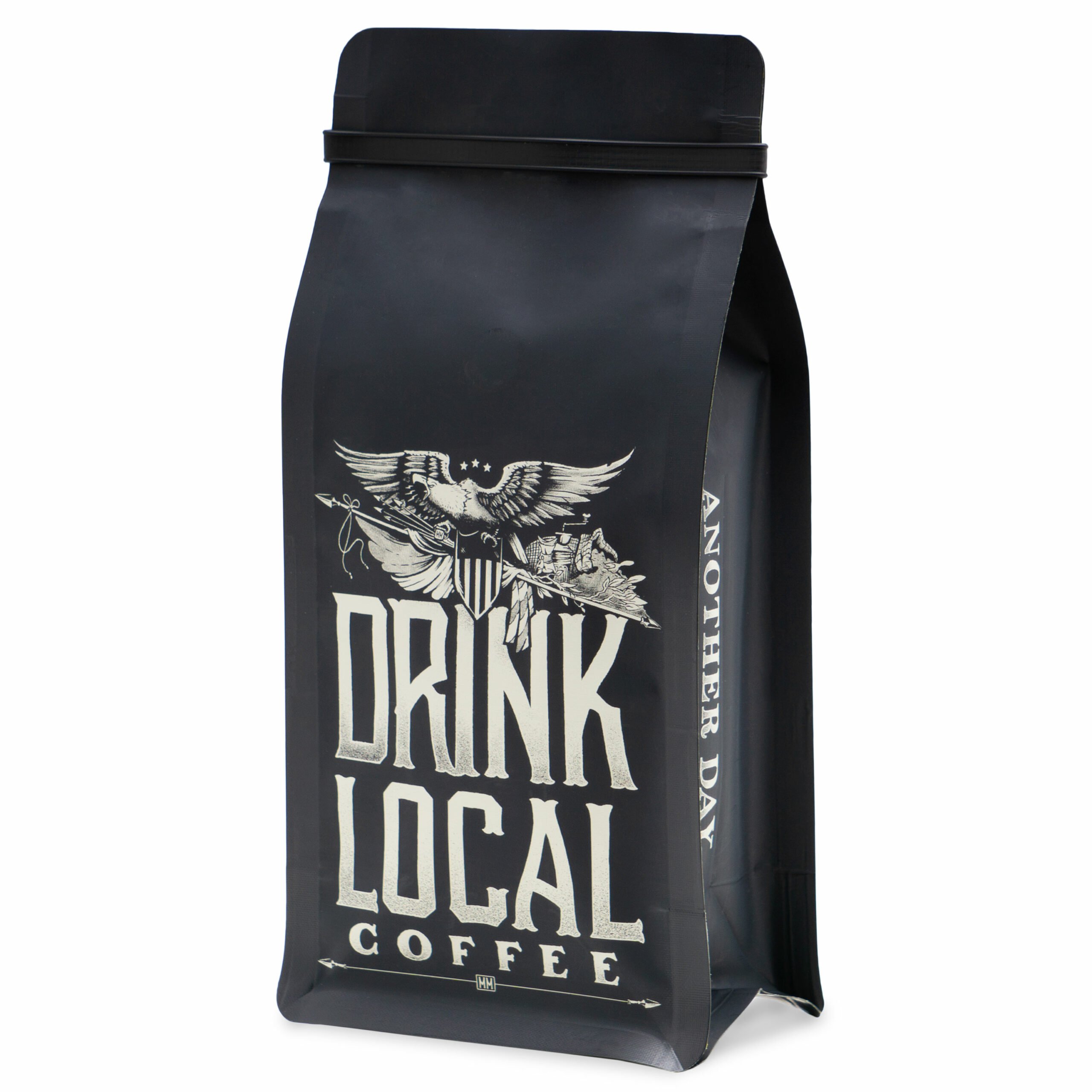 Since we're talking about customer loyalty, marketing, and branding, it's important to remember that grocery stores continually reconfigure their shelving. If your product winds up below or above eye level, you could lose your competitive edge at any time. Small coffee roasters have become more numerous in recent years, which means less shelf space for everyone. Another challenge is that coffee buyers are more concerned with how much a bag of coffee costs as opposed to how much coffee is inside.
Your 16oz bag of specialty coffee looks more expensive than that 12oz bag, even if your brand is less money per ounce. Your customer is more apt to grab the cheaper bag even though it's costing them more money. We know how to configure your coffee packaging to make it perfect for your product. We'll look at the size of your bag, how your branding is printed, and where it might be sitting on the shelf, so you get the most bang for your buck.
Do Right By Your Coffee Shop or Coffee Business
Choosing the right specialty coffee bag means protecting your coffee from air, moisture, light, and heat, which helps to ensure that it is always tasting great. It means knowing the right questions to ask so your packaging comes out just the way you want it. We specialize in working with small-to-medium-size coffee businesses to get them noticed. If you run a coffee shop and want to learn how to create your own coffee business with our packaging, contact us. We can't wait to work with you!