Stick Pack Packaging: Does the
Packaging Work for Your Brand?
You've been weighing your options regarding stick pack packaging solutions and services. Now you have to make a decision: how do you choose the right pack packaging stick pack solution for your brand? It all boils down to whether you want to make your own bags or use the finished ones. 
CarePac provides two types of powder stick pack packaging: flow wrap or form fill stick packs and finished stick bags. Not sure which one suits your packaging needs? Read on to weigh the advantages and disadvantages of stick packs packaging before a final decision.
1. Flow Wrap Packaging
Flow wrap stick packs are where you get a roll stock or tubing, and you use a machine to form and fill the stick all at the same time. An excellent example of flow wrapping or form filling stick packs include traditional candy bar wrappers
Before ordering these products, be sure you weigh its advantages and disadvantages.
Advantages of stick pack packaging
Some of the benefits that come with flow wrap products include:
Great for high volume and speed of filling
If your foremost consideration is high filling speed and volume, a flow wrap solution will often be more advantageous than filling premade pouch. So flow wrap or form fill is suitable if your company is large and produces thousands or millions of small packaged products. Combining these packaging and new technologies (that come will completely robotic infeed, servo drives, and other features) makes this benefit possible.
The cost of roll stock and tubing will be lower per-unit
The type of stick pack film is among the many variables that come into play when determining the cost of packaging materials and products. Choosing to go with flow wrap packaging for your products helps you cut down on the cost of tubing and rolling in the long run. You see, roll stock is more flexible because you're not forming specific types and sizes of bags. So using it for multiple bag sizes becomes cheaper.  For more tips on how to reduce packaging cost, check out our full article here. 
Disadvantages of stick packs
However, flow wrap stick packaging also comes with some drawbacks:
Bag-making costs 
When talking about flow wrap packaging for your products, you assume the responsibility of making your bags in-house. This means you'll need employees to load the supplied roll of material onto the form-fill-seal (FFS) machine and monitor the creation of those pouches.
Everything from loading the roll stock to film tracking to sealing has to be accurate. So you'll have to equip the employees with extensive technical knowledge to set up the machines properly and monitor changeover.
Therefore, if yours is a small business, the flow wrap or form fill is not going to be a suitable solution due to the high cost of machinery, equipment, and labor, last but not least FFS machines can be upwards of $100k for FDA uses. 
Impossible to make advanced bags
You'll have to sacrifice some flexibility if you need to achieve high packaging speed. So form fill machines and packaging are not flexible enough to help you come up with unique branding styles and designs for your products. It's only suitable for higher output and longer runs where you need only 1 to 4 standard pouch styles and sizes. 
Excess packaging waste
The in-house bag-making process will eventually lead to excessive concentration of the rolls and tubing in your facility. You'll also start noticing product and packaging waste from the packaging machine.  So be sure to invest in waste disposal around the machine to avoid contamination of finished products.
2. Finished Stick Bags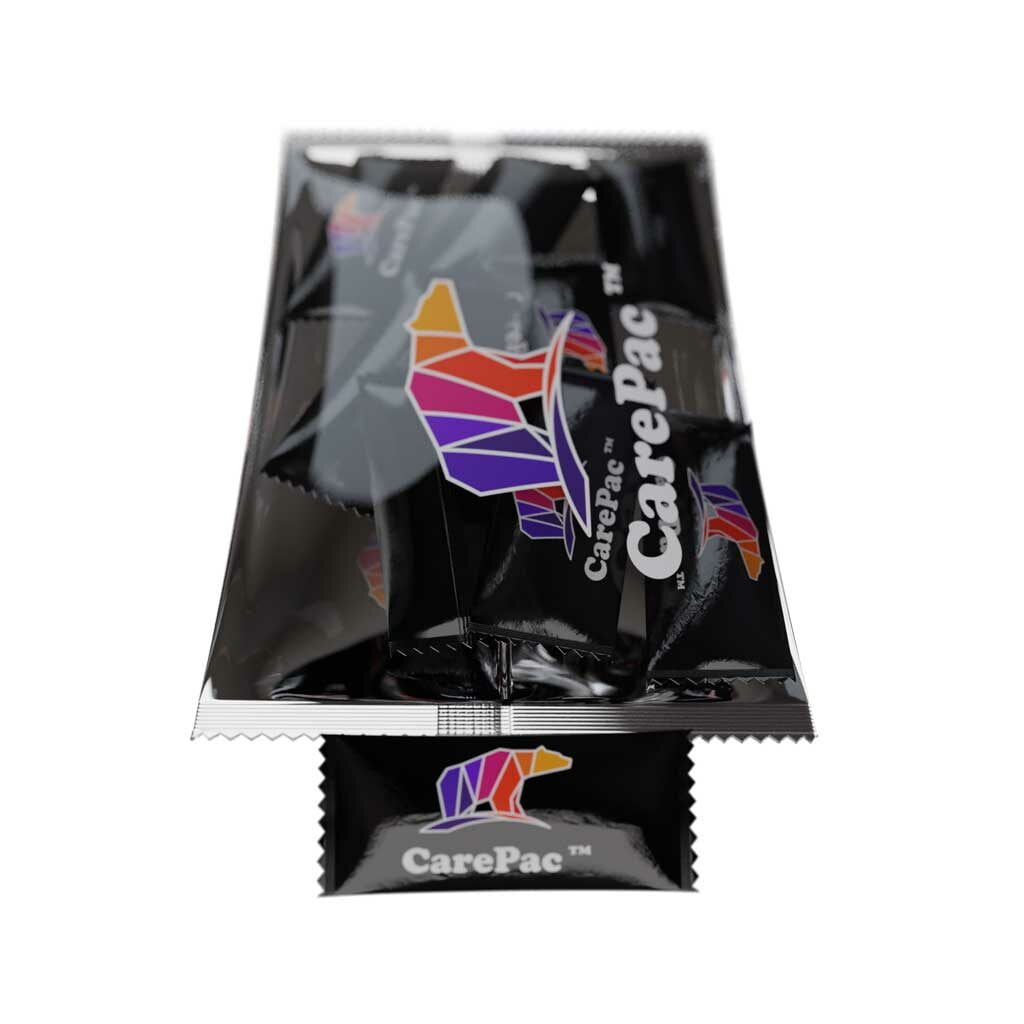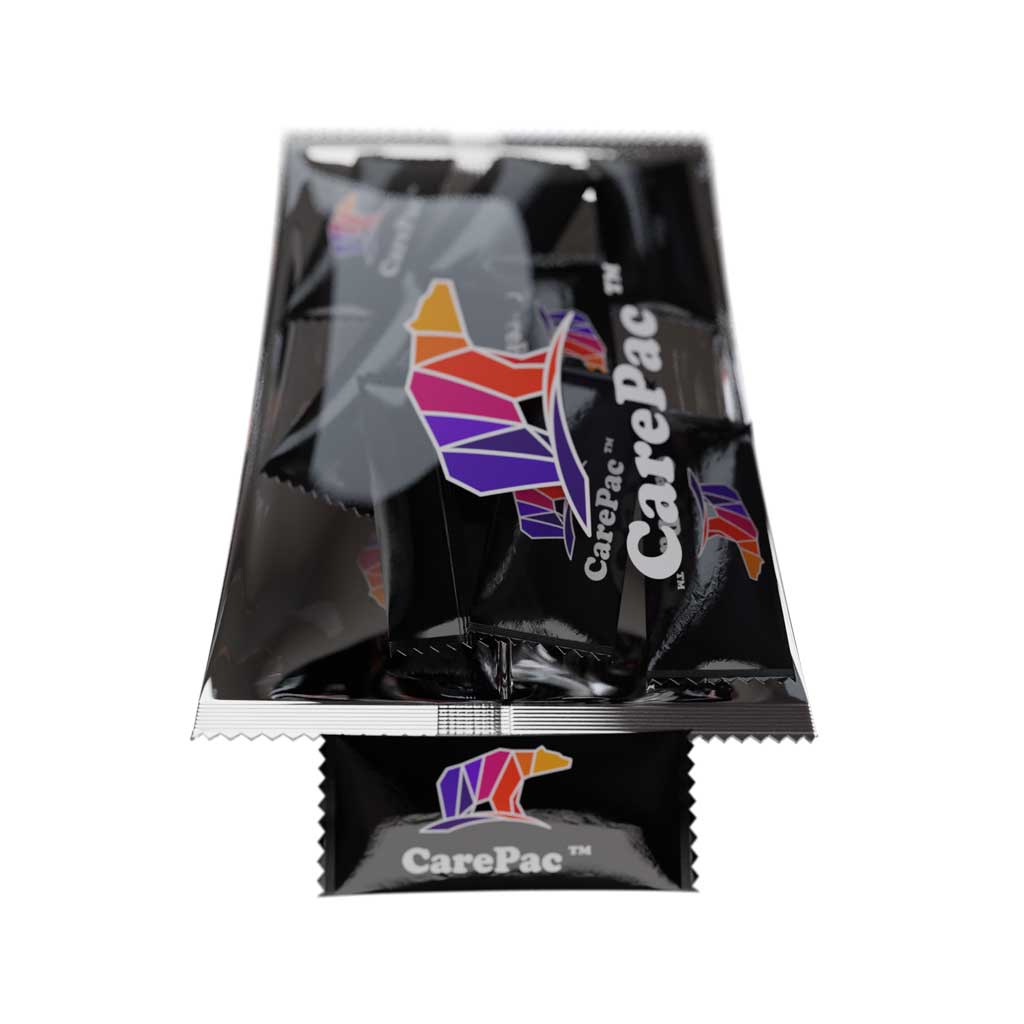 CarePac can also sell you small finished bags, which you can fill using a hopper filler. So the cost of designing and creating them is not your responsibility. 
Advantages
A wide variety of pouches
If you need a myriad of bag styles, sizes, or shapes to suit your brand, consider using finished packaging. The option also allows you to change the packaging varieties multiple times on the same day, thanks to its flexibility regarding short runs and artistic designs. 
Low labor cost 
Choosing finished bags means that you'll not have to bear the cost of making them- CarePac will fabricate and deliver the bags to your company. The remaining work will just involve loading the pouches into the machine's bag magazine, eliminating the need for technical expertise.
And if you have invested in robotic pick and place systems, you can say goodbye to manual labor. You'll only need few entry-level employees to load and operate the machines without much help. 
Minimal Scrap
You'll also not have to pay for product and packaging waste disposal (unlike the form filled stick packaging) because waste and scrapes are minimal. You see, disposing of scrap from premade bags is left in the hands of CarePac, as the creation of the bags doesn't happen in your facility.
Another thing is that the finished bag machine allows you to set up, calibrate, and carry out changeovers without running the product. That means you can recycle the bags for the final production. 
Disadvantages
Slow Speeds and Lower Volume
One drawback of this solution is its slow speed. Yes, the industry has fast hopper filling machines, but they're still lagging. 
However, it's worth noting that faster is not always better- While speed is crucial, it may not be the most critical consideration. It would be best if you looked into your unique needs when deciding on packaging products. 
High initial investment on flexible packaging films 
The cost of purchasing a premade pouches' machine can be high. Beyond the upfront costs, be sure to consider other cost factors that will impact your machine's total ownership in the long run. For instance, using finished bags can leave behind a lot of inventory if the product is discontinued. 
Conclusion
Let's face this: There is no one-size-fits-all answer regarding the right stick packs for your brand. Many factors come into play when choosing the best solution:
Company: think size of your company, length of runs, types of products, and volume of products
Logistical factors: think about your product's shape and weight plus their relationship with the shipping expenses. Can you easily palletize or pack your products for shipping?
Budget and cost constraints: what has your organization leadership decided regarding packaging costs? 
Your employees' technical skills (maintenance staff, production crew, and operators): you may decide to go for a solution that complements your existing crew's technical knowledge if you don't want to invest in new or highly-trained employees. 
Marketing department's requirements: think shelf presence, artistic styles, aesthetic appeal, and ads area.
Consumer base requirement: think messaging on the package, convenience, portability, and easy-open and re-sealable options.
Whether flow wrap or finished bags are suitable for your brand, consider CarePac, a reputable company that will make your products fly off the shelves. Get an instant quote now.