Child Resistant (CR) bags are a necessity due to state laws governing cannabis. Our high quality child resistant mylar barrier bags are designed specifically for cannabis. Our Black Child Resistant Pouch and Black child resistant exit bags, are top notch and have the features you are looking for. Not only do our black child resistant pouches have a re-closable child resistant zipper, they are also tamper evident, meaning that you can fully seal your product and ensure the customer that no one has tampered with the product until they open it.
We offer Black child resistant pouches in several configuration:
Black child resistant lay flat pouches (gram bags)
Black child resistant stand up pouch (1/8th – 1oz)
Black child resistant exit bags.
High Barrier Child Resistant Pouches: Every pouch we sell is made of a high barrier material called CareFoil or CareSilver-RCR. These are high barrier material that also features tear resistance. All our white child resistant pouches are smell proof and designed to be Opaque, keeping the contents hidden from view, as required by many state laws. Store and protect products like cannabis flowers, infused marijuana products, edibles, pharmaceuticals, cleaning pods, and more. The zipper is certified child resistant and must be opened with two hands. A high barrier and metallized interior locks in scents and moisture.
Features

Gloss Black Exterior / Silver Interior
Heat Sealable
Smell Proof
Increase Shelf Life
ASTM D-3475-15 Compliant
Toxic Free

Food Contact Compliant
BPA Free
TSE and Sulfer Free
Pthalates Free
Uses

Cannabis Flowers
Medicinal Herbs
Infused Products
Concentrates
Herbal Supplements
Pharmaceuticals
Selecting Right Size
| Cannabis Grams | Cannabis Ounces | Dimensions (Outside) | Child Resistant Zipper |
| --- | --- | --- | --- |
| 1 gram | "Dime bag" | 3.75″ x 4″ | Yes |
| 3.5 grams | 1/8 Ounce | 3.75″x 6″ x 2″ | Yes |
| 7 grams | 1/4 Ounce | 4″ x 7.25″ x 2″ | Yes |
| 14 grams | 1/2 Ounce | 5″ x 8″ x 2.5″ | Yes |
| 28 grams | 1 Ounce | 6″ x 10″ x 2.5″ | Yes |
| N/A | Variable | 12″ x 9″ x 4″ | Yes |
Pouch Configuration
A economical Gloss Black Child Resistant Exit Bag. The zipper on this bag has two sections. Its a great bag for dispensaries and other applications requiring a Child resistant reclosable zipper.Outside Dimensions: 12″x9x"4″
Lamination Structure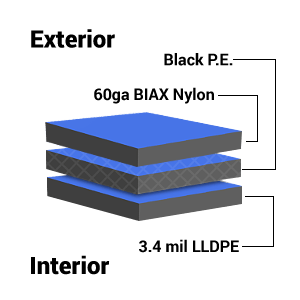 2101 – CareBlackFDA Approved 2000 Series – Opaque Nylon Barrier Material
CareBlack provides an exception opaque barrier that reduces or eliminates light intrusion.
The high nylon content enables it to be used in critical vacuum applications that require strength and impact resistance. This FDA approved film does not stretch due to layer orientation during lamination. Kosher and heat sealable, BPA and Phthalate free.
Printing
Need Printed Child Resistant Cannabis Dispensary ?
Do you need this for product printed? We offer this bag in a fully printed format, ready to be filled and go. Save time and remind your buyers who you are, build brand awareness, and sell more with printed bags. Minimum order quantity is 1,000 bags, with lead times as low in just 4 weeks.
The cost of printing child resistant stand up pouch is dependent on a few factors. So, to get an accurate quote just give us a call at
Edge to Edge printing
Front and back printing available
Minimum Print Order: 500 bags
Printing Pricing: $.0.60 – $2.00/unit
Print on the gusset too
Frequently Asked Questions