If you're wondering why you're dealing with bag blowout, you are not alone. This issue is both frustrating and costly, yet an exceedingly common issue faced by many customers.
Do you see ripped or torn edges?
Do you have tears in the middle of the material or along the sides of seams, or along crease lines?
Is the film next to the seal tearing away?
If so, you have a classic bag blowout. The two most common factors that cause bags to fail or "blowout" (i.e. tear or rip due to internal pressure) are:
inadequate film strength for the application and/or
logistical path issues.
It is important to consider the thickness/strength of the film vs. the weight of the product.
Weight and density of your contents
Reactivity of your contents
Do your contents out gas?
Are the contents prone to transferring weight loads (powders, and liquids) or are they more absorptive of impacts?
Since most pouches are also used for marketing, it's important to keep the cosmetic aspects of the film in mind as well as the strength.



Film Strength
Film strength is one of the first things to consider when reducing bag blowouts. The number of layers and composition of lamination layers. Choosing structures with layers that are specifically included for strength, like Nylon or EVOH, PFRA, etc will also help strengthen the pouch to handle the weight of the product inside and transportation pressure. We recommend doing appropriate in-house testing to determine the suitability of a new film to your product's application before going into production.
We offer small runs of as low as 5,000 bags per size to allow you to perform testing on new configurations or materials before going into full scale production environment.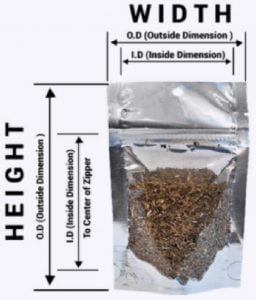 Logistics Path:
You should evaluate the logistical path your bags are taking:
How many pouches are having "blowouts"? Is it only a handful relative to the size of the order?
Double check that master packaging standards are in place and being followed
Always put the same number of bags per box.
Inner packaging is the same in each box.
The bags are being filled with the same exact weight of product.
Protective packaging procedures, are the bags being protected from drop loads in transit?
If out-gassing is an issue, consider adding a de-gassing valve.
Air freight; low pressure environments cause pouches to expand if you have not gas flushed.
Certain logistical paths (most notably amazon.com) are very hard on pouches. They can experience drops, rough handling and abrasions. Pouches must be protected from abrasion and built for expected drop loads.
The logistical route the pouch takes can also influence the state of the pouch between the time of filling and when it eventually ends up in the end user's hands. We advise that you "build" your pouch for the worst case scenario in the logistical path (this includes a thoughtful consideration of the film strength mentioned above, along with feature placement, seal width, and bag weight).
Bag Blowouts Can Be Prevented
We sell flexible barrier packaging for hundreds of applications, each with unique characteristics: storage conditions, handling, loading, subsequent transport, method or equipment used to seal, or vacuum, and the composition or reactivity of contents placed in the bag and end user use characteristics. We can help you determine which materials and films are best for your project.