How Much Do Custom Printed Stand Up Pouches Cost? | Cost of Custom Stand-Up Pouches & Bags
Custom printed mylar bags and stand up pouches pricing can vary significantly based on the material, features, and size of your bag, as well as the printing method you use and the lead time you choose. Let's break down all the variables that go into the cost of a stand up pouch.
1. The Size of Your Stand-Up Pouches (+ Do You Need Multiple Sizes?)
It seems fairly obvious that the larger the stand up bag the more raw materials are needed to produce the bag, therefore the cost increases as the size of the bag increases. But what you might not know is that you can save money by choosing to make your pouch from a standard stand up pouch size, versus a customized size.
For example, if you are starting out, and don't have strict requirements, your product may be able to fit a standard size bag, versus trying to make an exact match on the dimensions desired for your bag.
2. How Many Designs You Have
First, let's clarify what we mean by design. You may have one product, like coffee bags, but have multiple designs because you sell different variations and flavors of coffee. Maybe you sell decaf whole beans, and ground dark roast coffee. Typically each SKU will have it's own design. The more designs you have, the higher the cost of the bags because the printers used to create your bags will have to be "reset" for each design.
If you are new to packaging you might be wondering how many designs do I need? You don't really need to have a lot of designs if you are just starting out. One "trick" is to use one design and then add a small sticker to the package to delineate different flavors for example.
3. How Many Bags You Need
This is also quite obvious. The more custom stand-up pouches you need, the higher the total price of your order will be. But let's talk about the nuance here. What if you only need 5,000 stand-up pouches right now to fulfill an order, or to get your business started, BUT you could get a quantity discount if you were able to buy more bags now.
Of course, adding on more bags will increase the total price, but you also need to consider UNIT PRICE. If you are able to get 5,000 bags for $1,000 and 7,500 bags for $1,100, the unit price becomes 20 cents per bag and 14.6 cents per bag, respectively.
If you are launching a new product, or perhaps a new company, you will have less direct experience with how your product will sell. Ordering might become a trade-off between the quantity discount and your concerns about using all the bags you order.
If you aren't sure what's best for your company, contact our friendly packaging experts for a free consultationfree consultation.
4. What Material & Features You Choose
We've all come to expect that organic food costs more than conventionally grown foods. We can understand the additional costs required to generate a successful crop when you are not using conventional approaches.
It's the same thing for stand up pouches. The materials and features you choose for your stand up pouch will affect the total cost. For example, Compostable packaging material is more expensive than traditional mylar packaging.
Additionally the thickness of your material can drive up cost. For example, chips are typically packaged in low barrier bags because they are low margin items that move off store shelves very quickly. But if you are packaging a dog treat that might sit on the shelf for four months before someone purchases it, then you need a higher barrier material.
Lastly, the features you choose can impact the price of your bags. If you want child resistant zippers that will cost more than a simple zipper. There are eight different types of zippers, all of different purposes, that can all affect the price of your bag.
Pull-Tab Style Zipper (Insert Style Zipper)
5. How Soon You Need Your Bags
You know those shipping options you have to choose from when ordering your favorite products online? Next Day Shipping is always going to cost you the most because a lot more planning and careful execution must occur to ensure your package arrives on your doorstep when you expect it.
In the packaging industry, we refer to "how soon do you need it" as Lead Time. As with anything that is custom made, it takes time to print your bag. The more of a rush job, the more you can expect to pay because the production schedule will have to be altered to fit in your urgent need. And those changes cost money.
Alternatively if you are a planner you can save money by choosing the longest lead time, knowing your bags will arrive on time. If you call your packaging manufacturer the day before you run out of bags, expect to hand over a pretty penny to get those bags printed, and shipped to you.
At CarePac we manufacturer in the United States. This allows us to control lead times, shipping costs, and reliable delivery. If you are new to packaging we suggest avoiding all the pitfalls of ordering from China because you will likely be hit by unexpected delays through customs (even if you were promised a short lead time), high shipping costs and additional taxes you hadn't planned for.
6. Printing Method
This is by far the least understood aspect of packaging cost. And there isn't one printing on method that is better than the other. In fact, unless you are in the custom packaging business you wouldn't be able to tell which bag is plated printed and which bag is digital printed. The process of printing is the difference. You can always ask for pouch sample first.
Digital printing is the process of printing digital-based images directly onto your package.
Plate Printing uses a thin copper plate to transfer your design onto the pouch. With plate printing, artwork is separated into four ink colors: cyan, magenta, yellow and black (CMYK) — EACH COLOR REQUIRES A PLATE.
Get an Quick Quote for a Custom Printed Stand Up Pouch
No matter how crucial this product launch is to your company, you do have a budget. Whether you're a start up, bringing a new product to market, or restocking an existing product, you want the best bang for your buck.
CarePac is happy to discuss material types, printing options, and additional features that will help you decide what bags are best for you. You'll receive great bags while staying on target!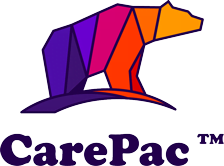 We will match any competitor's price within 5%, guaranteed. That means you don't have to settle for an inferior product just to save money.
You can have the BEST stand-up pouches on the market - along with our legendary customer service - for practically the same price!
5% Price Match Guarantee
Now You Really CAN Have The Highest Quality at the Best Price